Lighting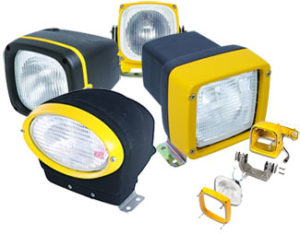 Hella Lighting Solutions
H-E Parts is your authorized dealer for Hella light for the mining sector.
Hella is the No.1 supplier and stands out thanks to OE quality and excellent lighting performance. Hella is the first supplier of work lamps with H9 bulbs, which achieve 45% more light output than H3 bulbs.
Mining lamps work for specific applications with additional mining/heavy duty features to produce a range of lighting robust enough for the harshest of work conditions.
LEDS
AS5000LED

HD Work Light - Multivolt™ 9-33V DC
| | | | |
| --- | --- | --- | --- |
| Over 5000 Lumens measured output | Close range (wide beam) and long range (narrow beam) models available | Switchable dimming function version available | Suitable for operation in -40°C to +50°C environments |
| Suitable for 9-33V, with reduced power function for voltages between 9-11.6V | Double insulated silicone supply cable with DT connector | Non-stick and easy to clean surface coating | Heavy duty cable gland offers bend protection |
| Draco suspension combined with HD 316 stainless steel bracket | Fully sealed LED requires no servicing | High impact Grilamid® lens | 200G shock tested |
Power Beam 3000

LED Work Lamp - Multivolt™ 9-33V DC
| | | | |
| --- | --- | --- | --- |
| Operating voltage: Multivolt™ 9-33 V DC | Grilamid Lens | Ingress Protection IP6K7 and IP6K9K | Connection: Pigtail loom w/ high temp silicone cable and 2 pin DT |
| 16 high power LEDs | Low EMC Signature (CISPR25 class 5) | Lifespan up to 130 times of a halogen bulb | Reverse polarity protection |
| < 43 W consumption | Environment temp -40° to +50°C | 200 G shock tested | LED fail bridge |
| Light output 3100 lm | Die cast aluminum housing, s/s bracket | Colour temp 5700 deg K | Hi-temp protection |
Power Beam 1000

LED Work Lamp - Multivolt™ 9-33V DC
| | | | |
| --- | --- | --- | --- |
| Operating voltage: Multivolt™ 9-32 V DC | PMMA Lens | Lifespan up to 130 times of a halogen bulb | LED fail bridge |
| 6 high power LEDs | Low EMC Signature (CISPR26 class 5) | 200G shock tested | High temp protection |
| <18W consumption | Environment temp -40° to +50°C | Connection: integrated DT plug | Colour temp 6500°K |
| Light output 850 lm | Ingress protection IP6K7 and IP6K9K | Polarity protected | |
DuraLed 1000 Lumen

White LED Service Lamp Multivolt™ 9-33V DC
| | | | |
| --- | --- | --- | --- |
| Industry benchmark highest efficacy - 50 LEDs rated to a total of 1000 lumen per lamp | Efficient LED circuit design - ultra long life, low performance degradation | Pre-wired with 2.5m cable | Resists vibration and shock |
| < 12W consumption | Wide beam precision optic for optimum light distribution | Reverse polarity, spike and over voltage protection | EMC compliant |
| Ultra durable Grilamid nylon lens for extreme impact, UV, chemical, and stress resistance | Intense white light output - enhanced work safety and reduced fatigue | Fully sealed IP6K6, IP6K7 | 2-hole surf, mount (screw caps & bushes incl.) |
LAMPS
AS500 Die cast Halogen/Xenon

Mining work lamps
12V / 24V with DT & AMP Connectors
Components certified over a -40°C to + 105°C
Hella DRACO® vibration damping system
Module 120 Series

Hella Free-Form optics in two beam patterns
12V / 24V with DT & AMP Connectors
Heavy Duty corrosion resistant polymer body offers maximum electrical safety
Hella DRACO vibration damping system
Oval 100 Mining Xenon

Heavy Duty Work Lamp with Integrated 4th Gen Ballast
12V / 24V with DT & AMP Connectors
Hella DRACO vibration damping system
Ultra Beam Xenon / Halogen Series HD Work Lamp

12V / 24V with DT & AMP connectors
Hella DRACO vibration damping system
BULBS
High Performance Xenon Blue Halogen Bulbs
High Performance Xenon Yellow Halogen Bulbs
High Intensity Discharge (HID) Capsules
Halogen Bulbs
Optilux XB Xenon White Halogen Bulbs
Optilux XY Xenon Yellow Halogen Bulbs
| Part Number | Description | |
| --- | --- | --- |
| HEL003326051 | REFLECTOR WHITE ADHESIVE | Details |
| HELXN4000 | BULB | Details |
| HELHMASXB12 | BALLAST | Details |
| HELHM400GMAGSPL | HM400 GREEN BEACON – DIRECT MOUNT WIRING C/W MAGNET | Details |
| HELH84994031 | WIRING HARNESS – HIGH PERFORMANCE HALOGEN | Details |
| HELH71020461 | LIGHT BAR 60 LED | Details |
| HELH27061001 | 360E BEACON DIRECT MOUNT | Details |
| HELH15142091 | LAMP | Details |
| HEL2933 | FRONT REFLECTOR – WHITE | Details |
| HEL2931 | SIDE REFLECTOR – AMBER | Details |