COR Cooling™ Rapid Manufacturing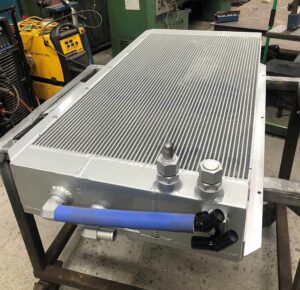 To combat ever-increasing external pressures impacting supply chains across the globe and to address our valued customers' requirements for short lead times and timely supply, H-E Parts has developed a rapid in-house radiator manufacturing service.
Our trained and qualified fabricators utilize high-quality materials to produce radiators, oil coolers and charge air coolers upon customer request. The team draws from a significant core stock to manufacture cooling solutions for any make and model of machine.
By keeping the manufacturing process entirely in-house, the COR Rapid service offerings are complete and delivered within an expedited time frame over traditional model inventory. This means our customers receive their required components in a more timely manner, reducing machine downtime while increasing cooler performance as all COR Rapid products benefit from our COR Cooling™ Bar and Plate design enhancements.
Order
Once a customer has placed an order for our in-house manufacturing of their required radiator, charge air cooler or oil cooler, manufacturing begins utilizing stocked materials. Each order is to be fulfilled via our COR Rapid manufacturing hub located in Adelaide, Australia for central distribution and customer support.
Inventory and Design
H-E Parts Cooling Division Adelaide stock a wide range of core designs to ensure they are always able to fulfill COR Rapid requests as quickly as possible. Utilizing proprietary engineered Bar and Plate designs the manufacturing team prepare the materials required to fulfill your order.
Manufacturing & Quality control
The dedicated COR Rapid manufacturing team then begin the process of measuring, cutting, welding, and assembling all these required materials to produce the customer requested component. Once each component is complete it subsequently undergoes internal quality controls to ensure its efficiency on site.
Logistics
Complete components are distributed from our centrally located Adelaide branch throughout Australia. This ensures reduced transit times and transport costs.
COR Cooling™ Features and Benefits
With our extensive range and abilities of our COR Cooling™ bar and plate product line, we are also able to supply replacement components for a variety of customers across a range of industries. The benefits of this product line include the below features:
Heavy duty bar and plate design to suit harsh mining and quarrying environments
High levels of corrosion resistance
Corner block reinforcements prevent premature failure of end tubes
Engineered internal heat transfer design
Sideband expansion control allows the core to expand and contract evenly to prevent premature failure
Enhanced external open fin design to prevent blockages and provide ease of cleaning