VISION STATEMENT
To lead in providing innovative solutions that improve mine and industrial maintenance.

Innovation. Not Duplication.™
OUR MISSION
Our mission is to supply customers with the highest quality replacements parts, components, and services that improve life cycle performance and lower costs. We will deliver a superior alternative by providing innovative, engineered solutions designed to support mine and industrial maintenance professionals. Our aim is to provide the best customer services through an empowered, talented, and responsive team. We will provide a safe, productive, and supportive workplace that attracts and retains the best employees. 
Delivering Quality and Value with Exceptional Service.
COMPANY OVERVIEW
H-E Parts is a leading independent supplier of parts, remanufactured components, and equipment to the global mining, quarrying, heavy construction, and energy sectors.
H-E Parts is comprised of the following divisions:
Mining Solutions– Complete drivetrain solutions
Crushing Solutions– Crusher liner development, parts and wear product solutions
Engine Solutions– Diesel engine remanufacturing and service solutions.
Our divisions offer solutions in support of mobile surface mining equipment, fixed crushing and minerals processing equipment, and mobile construction equipment fleets. At H-E Parts, we provide our customers with a superior alternative to many of the traditional OEM channels by responsively delivering innovative solutions that award the customer with the lowest total cost of ownership.
Core Values
At H-E Parts, all of our employees "practise" 12 core values. Each of these values is demonstrated daily and encompasses what it means to be part of H-E Parts.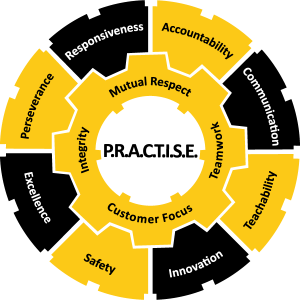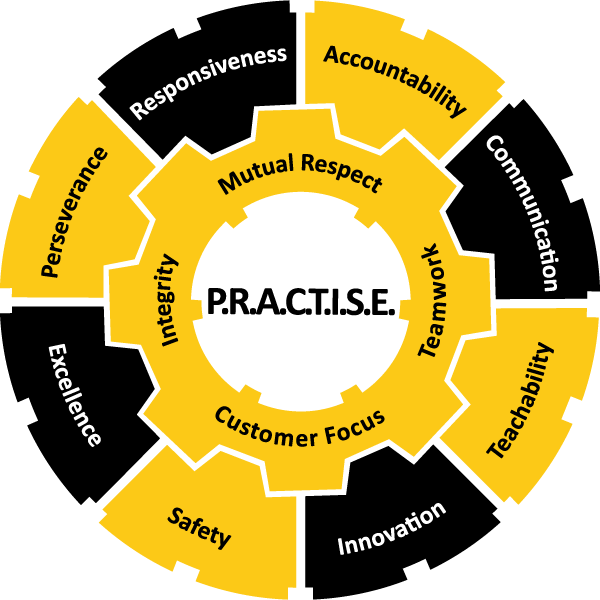 Perseverance
Responsiveness, Mutual Respect
Accountability
Customer Focus, Communication
Teachability, Teamwork
Integrity, Innovation
Safety
Excellence