Wheel Group Repairs
Repairing components rather than replacing with new can provide significant cost savings. H-E Parts offers complete refurbished wheel groups for front and rear wheel groups. Innovative upgrades and continuous improvements to the product performance have proven to lower cost per ton and keep equipment running longer. Repair processes are carefully designed to produce a reliable component which in some cases has superior properties to the original e.g. wear resistance or fatigue life. H-E Parts has expertise and experience in welding, heat treatment, metallurgy, spline cutting, and general machining.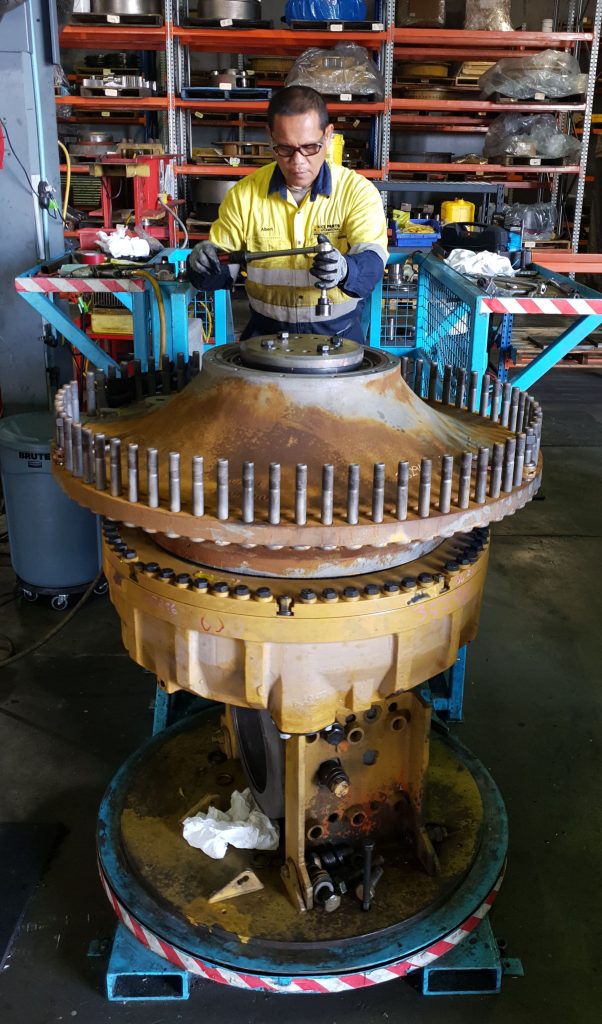 Component Re-use
H-E Parts, globally, conforms to strict guidelines on appropriate criteria for re-use of components to maximize useful life without sacrificing reliability. Gears and other critical components are routinely inspected for re-use on a nation-wide basis using appropriate means including magnetic particle inspection for cracks. H-E Parts technicians and engineers are skilled and experienced in failure investigation and analysis procedures.
Wheel Group Remanufacture
H-E Parts has specialist facilities globally for the complete re-manufacture of wheel groups. In most cases, our proprietary methods allow severely distressed components to be re-manufactured, often better than new. Complete control of the rebuild process, tight standards, high performance components and special innovations provide increased wheel group reliability.
Rear and front hub refurbishment – optional high strength flanges can be fitted to most hubs and many cracking and mechanical damage can be repaired. We can even replace the worn internal splines in some wheel hubs.
Rear and front spindle refurbishment – option of WAS or HVOF bearing journals and spline replacement, bolt hole replacement and crack repair.
Refurbished planet carriers – stronger replacement primary carrier spline. Refurbishing cuts cost and upgrades increase component performance. All component repairs carry high level warranties, reflecting our commitment to our customers and our confidence in the performance of our products.