Industry Capabilities
H-E Parts Engineering delivers a superior alternative by providing advanced machining services and innovative engineered solutions that support key industries. Our mission is to supply customers with the highest quality replacement parts, components and services that improve life cycle performance and lower costs. Our dedicated employees provide the best customer service through an empowered, talented and responsive team. We will provide a safe, productive, supportive workplace that attracts and retains the best employees possible.
Mining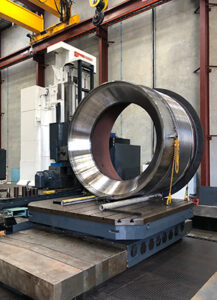 H-E Parts Engineering has reliably supplied and repaired a wide range of quality mining equipment components for over 20 years. Jobs are able to be assessed, designed and manufactured with quick turn around, utilizing our wide range of CNC machines, specialist equipment and professional engineering knowhow.
Key Products and Services Include:
Bogies Bushes
Component machining and welding
Conveyor pulleys
Crusher components
Flanges
Hardened rollers
Machining sole plates on large frames
On-site milling and line boring
Shafts/Nuts/Bolts
Oil and Gas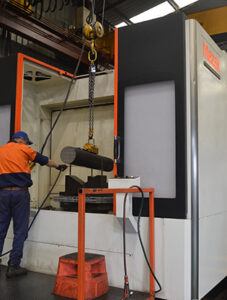 H-E Parts Engineering has considerable experience servicing the specific demands of the oil and gas industry. Our specialized and skilled staff utilize a wide range of modern precision machinery to ensure our workshop is capable of producing work with a fast turnaround and accuracy.
Key Products and Services Include:
Adapter plates
Drill tool refurbishment and down hole components
Heat exchangers
Mixer drive adapters
Orifice, ring type joint (RTJ) and custom made flanges and fitting
Pump parts and frames
Restriction nozzles
Specialized manifolds
Spectacle blinds and spades
Subsea components
Heavy Transport and Locomotive
H-E Parts Engineering are experienced and capable of completing a wide range of rail and heavy transport component repair, small and large run component manufacturing, machining and customer service necessary to complete work on time and to specification.
Key Products and Services Include:
Bogie machining and repair
Undercarriage repair
Gear and pinion repair
Rolling stock and yoke reconditioning
Marine and Defense
Our facility is within close proximity to the Australian Marine Complex, expertise within CNC machining, manufacturing, quality and customer service makes HEPE the perfect supplier to partner with for your engineering, machining and associated fabrication requirements.
Key Products and Services Include:
Propulsion systems
Radar and weapon mounts
Winch components