Dura-Lite™ Charge Air Coolers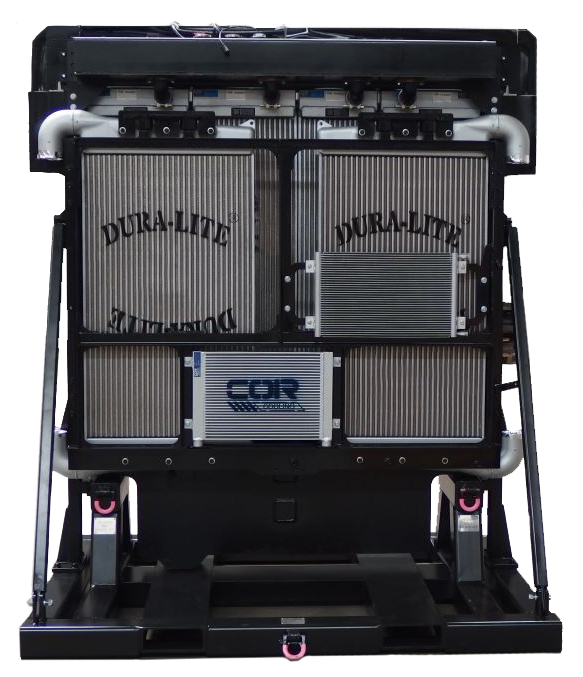 As a leading distributor of Dura-Lite™ Charge Air Coolers (CAC's), H-E Parts stock a large range of CAC's to suit a variety of applications. Dura-Lite™ CAC's have patented heat resistant silicone grommets to eliminate cracking, saving the customer replacement time and costs associated with premature failure. The Dura-Lite™ offset fin design reduces debris build up and an internal baffle system increases cooling efficiency by distributing air evenly across the core. As a result of these improvements, less fuel is used which results in additional savings for customers.
Dura-Lite™ have engineered their Charge Air Coolers incorporating their Patented Silicone Grommet Tube-to-Header Seal System in place of the traditional brazed / welded tube to header joint. The silicone grommets allow for free thermal expansion while maintaining a leak free seal. This free thermal expansion eliminates the stress and premature failures associated with a restrained brazed / welded tube to header joint.
Strain tests, thermal cycle tests, dynamometer tests, durability tests at elevated temperatures, and field tests were conducted to confirm that Dura-Lite™ coolers produce outstanding results and eliminate premature Charge Air Cooler failure. 
Patented high temperature silicone grommet tube-to-header seal system allows the tubes to expand and contract in the grommet/ header which eliminates the typical tube-to-header failure and resulting leakage.
Tanks are reinforced to reduce premature failure.
offset outer fin design provides consistent performance by minimizing the build up of debris.
Dyno tested to assure the highest performance.
Engineered for performance, economy and durability (longevity).
Each cooler is tested under water to assure it is leak free before leaving the factory.
Australian Distribution only