MACHINING CAPABILITIES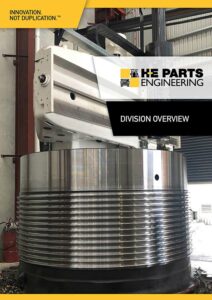 HEPE's capacity, range of precision machinery, fabrication and machining capabilities ensure our professional engineering team can provide innovative solutions for both large and small precision engineering tasks. Our dedicated team pride themselves on their responsive, clear and proactive job communication.
HEPE manages jobs through an advanced tracking software that ensures they are complete with high precision, on time and to specification. This software promotes greater transparency with customers and provides up to date, accurate job intelligence.
Alongside this state of the art software, HEPE has some of the largest equipment in Western Australia making them the perfect solution for large, heavy, and bespoke machining needs.
HEPEs facility includes a dedicated heavy machining workshop with a 100T lifting capacity and the following machinery:
CNC and manual precision machining
Multiple operation CNC machines for small to medium diameters
Robot fed, twin spindle multi-tasking machine
Multiple 9-axis floor borers for heavy duty, general milling work
Vertical lathe which can swing up to 8m in diameter
Horizontal lathe that can turn, mill and grind a job 11m in length
CNC bandsaw
Berthieze CNC 8 Meter Vertical Lathe
Maximum working height of 3,400mm

Chuck Diameter of 3,700mm that can be increased up to 6,400mm with outriggers

Maximum swing of 8,000mm 

Primarily services

Cone crusher adjustment rings & bowls

Mainframes

Large pulleys

Heads

Heat exchangers
Tacchi 11 Meter Horizontal CNC Lathe
A unique machine that can turn, mill and grind jobs. 

Max swing over bed 1570mm 

Max swing over saddle 1240mm 

Max load between centres 30T which can be increased with steadies 

Distance between centres 11,000mm which can be increased with configuration

Primarily services

Long shafts

Maritime propeller shafts

oil & gas applications
Toshiba CNC Floor Borer with Rotary table
X Axis (longitudinal) 6200 mm 

Y Axis (vertical) 3200mm

Z Axis (Ram) 520 x 450 900mm 

W Axis (spindle) Dia 1800 

Table 4600 x 3050 

100T weight capacity 

1 has Rotary table 3000 x 3000 

Primarily services;

Large mainframes

Track frames

Slew frames
Okuma MCR Double Column
High-speed double column machine with auto-loading/unloading attachments
Maximum travel 6,600mm
Capable of milling anything up to 6,600mm

Primarily services;

Exciter beams
Grizzly decks
Lip plates
Prep work