MACHINING CAPABILITIES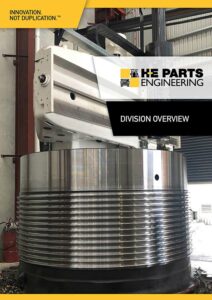 HEPE's capacity, range of precision machinery, fabrication and machining capabilities ensure our professional engineering team can provide innovative solutions for both large and small precision engineering tasks. Our dedicated team pride themselves on their responsive, clear and proactive job communication.
HEPE manages jobs through an advanced tracking software that ensures they are with high precision, on time and to specification. This software promotes greater transparency with customers and provides up to date, accurate job intelligence.
Our on site capabilities include:
CNC and manual precision machining
Multiple operation CNC machines for small to medium diameters
Robot fed, twin spindle multi-tasking machine
Multiple 9-axis floor borers for heavy duty, general milling work
Vertical lathe which can swing up to 8m in diameter
Horizontal lathe that can turn, mill and grind a job 11m in length
CNC bandsaw
Precision wire cutting to .3mm in depth.