Commitment to safety excellence
H-E Parts has developed a suite of safety apps that allow for real time entry of data from essential safety activities without the need to fill out paperwork. Not only does this simplify the process for our technicians, it also provides a level of reporting and sophistication, which assists in the continuous improvement of our safety programs. Entries submitted electronically automatically populate registers which trigger workflows, email notifications, approvals and automate processes for action management when required. This provides a single knowledge portal across our global operations. Insights gained from analysis of our safety data allows H-E Parts to remain proactive in our quest for continued safety excellence.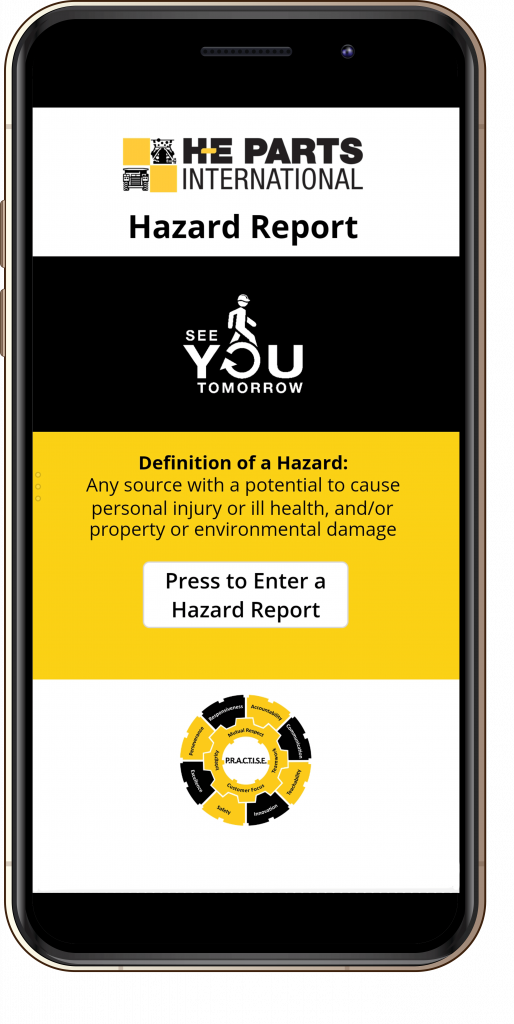 OPERATIONAL HAZARD ASSESMENTS (OHA)
H-E Parts utilizes OHA's as planned interactions with operators to discuss the hazards involved in a task and whether these hazards are controlled adequately to make the job safe. H-E Parts team members use our internal OHA app to submit details of the interaction which will prompt an auto alert if an action is required.

HAZARD REPORTING
Hazards have the potential to cause personal injury, ill health, property and environmental damage. A critical element of H-E Parts safety and health program is a proactive, ongoing process to identify and assess such hazards. All H-E Parts team members have a responsibility to assist in identifying hazards that are unacceptable to our business and our customers operations, so that they can be addressed and removed, or controlled to an acceptable level. Through use of the hazard reporting app, H-E Parts team members can identify, detail and record hazards, actions taken, and an auto alert is scheduled if further action is required.

INCIDENT REPORTING
H-E Parts takes a proactive approach to risk management and aims to prevent incidents by identifying hazards and taking corrective actions to eliminate them. The incident reporting app allows for instant reporting and notification of incidents. If an incident does occur, it is most important to protect our employees from harm, or any further harm, before considering any other action. Submission of incidents trigger the processes required for investigation and analysis to identify underlying causes so that corrective actions can be implemented to prevent possible recurrence.

CUSTOMER INTEGRATED RISK MANAGEMENT ACTIVITIES
H-E Parts tailored apps allow for alignment with customer safety, leadership and risk management activities. These populate registers with data that allows for seamless reporting against required key performance indicators and insights of H-E Parts safety activities at customer sites.