ProTech™ Wear Blocks and Buttons
WEAR BLOCKS
ProTech™ wear blocks supplied by H-E Parts, offer protection for highly abrasive applications resulting in increased production, less downtime and reduced maintenance costs.
ProTech™ wear blocks are a strong abrasion-resistant white iron casting, which is metallurgically bonded to mild steel backing plates. The white iron provides maximum abrasion resistance protection for your equipment. The mild steel is easily weldable with minimal preparation and acts as a cushion for the white iron, enabling it to handle impact and abrasion in the most extreme applications.
ProTech™ wear blocks can be used in a wide variety of mineral processing applications.
WEAR BUTTONS
ProTech™ wear buttons are high carbon-chromium, hypereutectic white iron castings metallurgically bonded to a mild steel disc. They are ideal for smaller areas requiring wear resistant material and require less welding time and material than conventional wear plate. ProTech™ wear buttons give excellent protection for mobile and fixed plant applications – saving our customers' time and money.
TYPICAL APPLICATIONS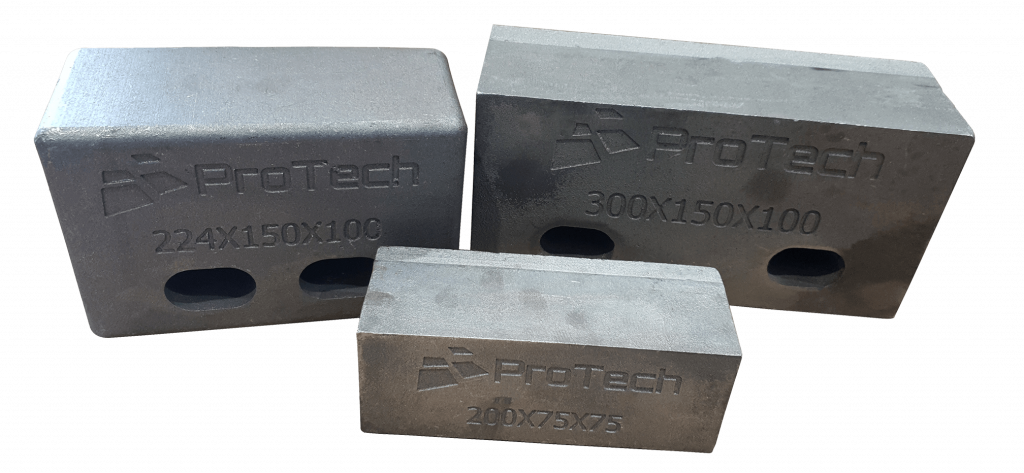 Chute liners
Rock box bars
Feeder deck plates
Grizzly screens
Shredder / grinder tips
Cane knife edges
Adapters wear caps
Dredging industry