timely-turnaround-for-equipment-at-a-diamond-mine
Timely Turnaround for Equipment at a Diamond Mine
A diamond mine in Northern Canada was in need of a remanufacturing partner that could work with a short window of economic transportation time. The mine is accessible through the world's largest heavy haul ice road for eight to ten weeks, beginning in late January. This makes the logistics of receiving mine challenging.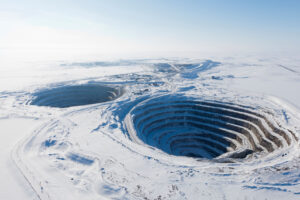 Our customer prefers component delivery during winter to avoid costly air freight expenses. H-E Parts has the ability to receive components, tear down, quote, and repair to like new condition in the appropriate window to meet the ice road opening.  Additionally, the customer works with our production team on teardowns and subsequent remanufacturing to get finished products built to exact specifications at a competitive price.
Annually, H-E Parts delivers haul truck, wheel loader, and dozer solutions to the customer in a tight window. Solutions include:
KOM 830E Haul Trucks
787 DC Electric Wheel Motors
Birrana™ Enhanced Front Wheel Groups
Front Suspensions
Rear Suspensions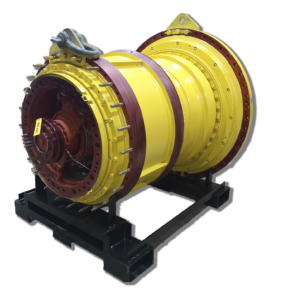 KOM HD785 Haul Trucks
Final Drives (on 785-7 Equipment)
Rear Axles (on 785-5 Equipment)
KOM WA900 Wheel Loaders
CAT D10T Dozers
StaTerra Power™ C27 Engines
Transmissions
Ripper Cylinders
H-E Parts' Mining Solutions, Engine Solutions, and Dom-Ex teams work collaboratively to ensure engine and complete drivetrains perform as expected and to the best standards possible through shared technology, information and innovations.
In addition to price and on time delivery, our customer values innovation and total cost of ownership.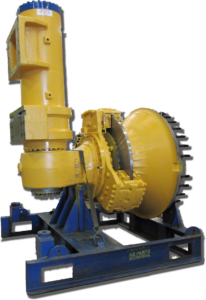 Birrana™ Enhancements
Our Birrana™ enhanced wheel groups provide customers with a lower total cost of ownership. H-E Parts proprietary Birrana™ enhancements include:
The Birrana™ control fit wheel bearing system, which includes flexible spacer, hardened spacer, custom bearing design and specifications, and preload adjustment
Birrana™ contamination control which includes isolation seals, contamination guards, and contamination kits
Birrana™ brake wear gauge allowing easy and fast brake wear measurement, reduced downtime, and improved safety
Utilizing H-E Parts wheel groups has provided the customer with extended service life and increased maintenance planning accuracy through shorter repair times and increased service exchange availability.
Staterra Power™ Enhancements
Our StaTerra Power™ engines are built to outperform the competitor. All engines are offered in both standard specifications and with customer requested options. Each engine comes with an industry standard warranty. Our rebuild process includes: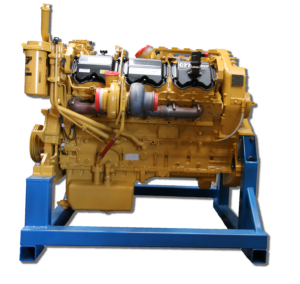 A teardown report with the condition of major components
In-House Machining to ensure performance and life extension for components
Major components NDT tested by certified technicians
Cylinder block work includes inspection of 50 critical areas, machining and optional spray welding to restore deck height
Cylinder Block machining restores to specification the block deck surfaces, liner bores, and bearing bores
Crankshaft is balanced using the latest processes and customized equipment
Match Balanced reciprocating assemblies (Rod, Piston and Pin)
Restoration of original lift and duration on camshafts
A Dyno test ensures it meets Peak Horsepower and Peak Torque
A final 26-Point inspection prior to delivery
All work was completed in-house. The ability to manage the complete process and manufacture the component provided the customer complete transparency of the scope of work, components remanufactured back to zero hours, expedited service delivery to meet their transportation needs, and a lower total cost of ownership over purchasing a new component.
Since 2018, H-E Parts has delivered over 30 components to this customer within the required delivery schedule.