in-house-machining-for-faster-turnaround
In house machining for faster turnaround
Newmont Boddington (Newmont) recently had a Metso MP1000 adjustment ring in for repair at our Crushing Solutions branch in Naval Base, Western Australia, Australia. The adjustment ring required repair works such as: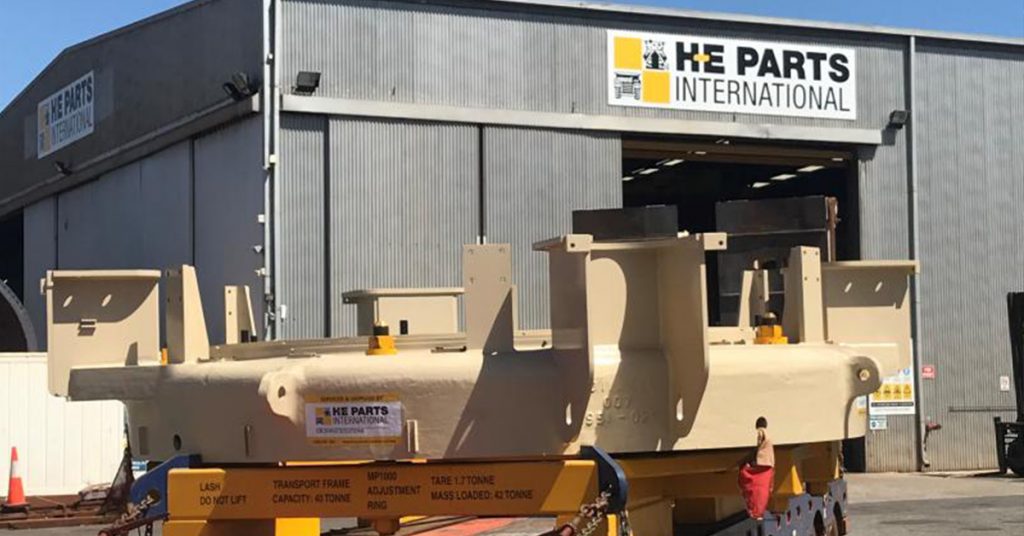 Full assessment prior to repair including 3D laser scanning of worn areas to determine repair scope
Pre machine of all worn areas and weld build up as required
Non destructive testing (NDT) and post weld heat treatment (PWHT) after repairs
Supply of all replacement parts required
Machine threads, seating face and internal faces and all welded locations
All work was completed in-house including the required machining, which was preformed at H-E Parts Engineering division, Allgo Engineering (Allgo). The ability to manage the complete process and manufacture the component provided Newmont complete transparency of the scope of works, a component re-manufactured back to zero hours, expedited service delivery and a lower total cost of ownership over purchasing a new component, that H-E Parts can also provide. Our service teams comprise of manufacturing, engineering, off-site workshop repairs, on-site service functions, specialize in minerals processing and handling applications and are dedicated to increased safety, efficiency and risk prevention.
ALLGO ENGINEERING
Our Allgo branch has invested in some of the largest and most advanced equipment seen in Western Australia, and we possess the experience and capability to carry out superior work in a fast turnaround environment. Major mining machining already completed includes crusher heads and bowls, adjustment rings and shafts. Allgo are capable of providing machining for some of the largest mining, marine and oil & gas components required by the Western Australian market. With H-E Parts proven mineral processing engineering, wear material supply and associated service capabilities, combined with in-house machining provided by Allgo, will provide a superior, cost-effective solution for our customers in the West Australian market and facilitate beneficial synergies that will deliver increased value.