improved-liner-life-for-thyssenkrupp-63x89
Improved Liner Life for ThyssenKrupp 63×89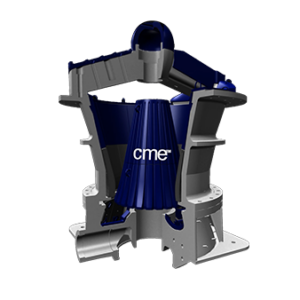 A major Zambian copper mine engaged H-E Parts to supply crusher liners for their Thyssenkrupp 63 x 89 primary gyratory. The customer requested liners to suit specific plant design criteria, with the aim of extending on the life of the currently supplied liners. Prior to H-E Parts involvement the concave liners had only achieved ~11.02m tons (10.0m tonnes).
H-E Parts rapidly developed a suitable trial liner set that included modified rim liners and adjoining concave segments to address the client's issues. Once implemented, the CME™ liner sets ran successfully to 18.7m ton (17.0m tonne) per concave set with two mantles. Consistent with H-E Parts philosophy to provide continuous improvement, customer recommendations were made for the next stage liner design aimed at improving crusher and liner performance at a tighter closed side setting (CSS) of 5.9" (150mm), down from the initial 7.1" (180mm) CSS, with modifications to allow the full range of mantle travel to be utilized across three mantle sizes at the revised gap. Design variations were also made to limit increases in crusher load and reductions in instantaneous throughput, associated with a tighter gap setting.
This liner set successfully allowed the crusher to be operated safely at the tighter gap setting, while extending the life of the liner set. The liners were run and achieved 26.6m ton (24.2m tonne) or 142% life improvement, representing a 30% reduction in cost per tonne over the trial liner set. Post removal analysis indicated that the concave set would achieve up to 30.9m ton (28.0m tonne) and had also enabled a significant and measurable reduction in power spikes and mantle bounce, compared to the trial liners at the tighter gap setting.
H-E Parts achieved these improvements by utilizing our proprietary ChamberVision and CrusherVision predictive modeling software to design a customized liner set based on site-specific requirements and goals. Our wear modeling and monitoring capability forms part of our ongoing product support service, allowing H-E Parts to assist with planning and change-out scheduling.