h-e-parts-case-study-pegson-1000-liner-performance
H-E Parts Case Study Pegson 1000 Liner Performance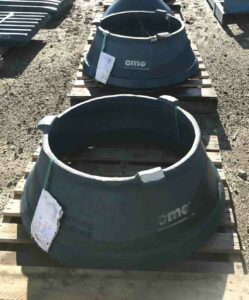 H-E Parts worked with a gold mine located in the southern tablelands of New South Wales, approximately 37 miles (60km) south-east of Canberra, Australia. The mine operates two Pegson 1000 cone crushers and experienced lower than expected liner life with the OEM supplied liners. Additionally, the change-outs did not align with the on-site jaw crusher rotation causing increased downtime.
H-E Parts provided a proposal tailored to the customers site specific requirements, which included the supply of a CME™ liner set with a heavy duty profile. H-E Parts achieved these improvements by utilizing our proprietary ChamberVision and CrusherVision predictive modeling software to design a customized liner set based on site-specific requirements and goals. Our wear modeling and monitoring capability forms part of our ongoing product support service – allowing H-E Parts to assist with planning and change-out scheduling.
Following the installation of the H-E Parts liners, the life improved from 24,250 tons (22,000 tonnes) per set with the OEM liners up to 35,270 tons (32,000 tonnes) with the CME™ liners, or a 45% improvement. This also meant the Pegson crushers change-out schedule now aligns with the on-site jaw crusher.
H-E Parts continue to work with site proving wear modeling and monitoring services to provide further continuous improvements. The next stage will be to introduce a material composition upgrade to the CME™ MnElite product which is a 21% grade, with the intention of providing significant further life improvements.