h-e-parts-case-study-haul-truck-relocation-and-component-recycling
H-E Parts Case Study Haul Truck Relocation and Component Recycling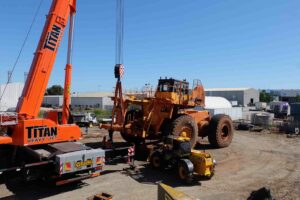 H-E Parts recently assisted a major iron ore miner in the Pilbara region of Western Australia, Australia, providing an end-to-end relocation and component recycling service of four off-highway haul trucks. The project was conducted to assist site with the reuse of major components during the initial implementation of a wheel group service exchange program.
A small team of H-E Parts specialists managed the project which enabled it to be conducted in a far more efficient, effective, and
environmentally friendly way. Conducting the dismantling and recycling process off-site in a self-contained and controlled facility greatly reduces the risk to all parties involved.
The project included the transport and logistics of four offhighway haul trucks from the Pilbara based mine site to our Mining Solutions facility in Welshpool, Western Australia. Once located in Welshpool the disassembly process was undertaken by a small team of specialized tradespeople. This ensured that the process was completed in a safe and controlled manner with no recordable incidents occurring.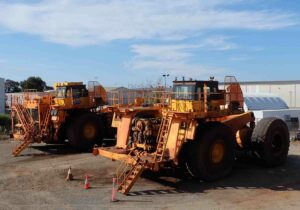 This team also ensured that a range of components were kept in repairable condition across the process. These components were kept to undergo repair and be recommissioned as part of the customer's new rotable service exchange program. Many of these components have been re-manufactured in house with others being redistributed to customer requested repairers. To allow for the safe transport and redistribution of all components, H-E Parts designed and manufactured custom transport frames specific to customer requirements. The remaining components and sub frame not required by the customer were sustainably dismantled and recycled.
H-E Parts Mining Solutions Perth relocated to our Welshpool facility with projects such as this in mind. With sufficient, rated road access and a dedicated laydown area the move has made undertaking such projects a possibility. It has been great to see this first project run so smoothly and H-E Parts aim to continue such projects within the region.