drivetrain-solutions-for-komatsu-930e-haul-trucks
Drivetrain Solutions for Komatsu 930E Haul Trucks
An open pit mine in Mexico is a leading producer of gold, silver, lead, and zinc. The customer was in need of high quality, replacement components and parts for over 80 Komatsu 930E haul trucks. The average life of these trucks was over 50,000; a subset of trucks had logged over 80,000 hours. The customer wanted to extend life on haul trucks to over 100,000+ hours and sought a multi-year partner to maximize performance while minimizing downtime.
H-E Parts has the ability to receive components, tear down, quote, and repair to like new condition in a timely fashion.  The customer worked with our production team on teardowns and subsequent remanufacturing to get finished products built to exact specifications at a competitive price. H-E Parts has also assisted in emergency and unplanned component needs.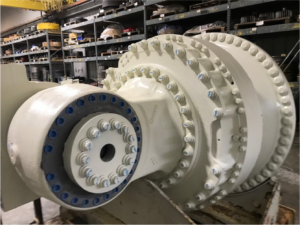 H-E Parts delivers Komatsu 930E haul truck solutions to the customer. In 18 months, we have delivered:
GDY106 Electric Wheel Motors
Front Corners
Hoist Cylinders
Rear Suspensions
Front Suspensions
Mechanical Parts
Our customer values, and has come to expect, innovation and lowered total cost of ownership.
TAILORED SOLUTIONS
Our team is able to adjust the rebuilding process to fit the customer's specific needs. Innovative upgrades and continuous improvements to the product performance have proven to lower costs and keep equipment running longer. Repair processes are carefully designed to produce a reliable component which in some cases has superior properties to the original. H-E Parts has expertise and experience in welding, heat treatment, metallurgy, spline cutting, and general machining.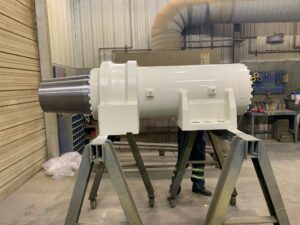 H-E Parts conforms to strict guidelines on appropriate criteria for re-use of components to maximize useful life without sacrificing reliability. Gears and other critical components are routinely inspected for re-use using appropriate means including magnetic particle inspection for cracks. H-E Parts technicians and engineers are skilled and experienced in root cause failure analysis procedures, which is the basis for continuous improvement.
With high levels of attention to detail and best practice, we give safe and consistent repairs that will achieve appropriate service life every time. Utilizing H-E Parts premium components has provided the customer with the expectation of extended service life and increased maintenance planning accuracy.
ELECTRIC WHEEL MOTOR GEARINGS
H-E Parts has supplied customers around the world wheel motor gearing sets for over thirty years. We provide replacement gearing for the most popular models, including GDY106, GDY85, GEB25, T282, and legacy 787/788/776. We service both AC and DC motors.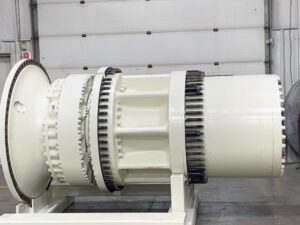 At H-E Parts, we use best in class manufacturers to produce our proprietary wheel motor gearings. We utilize specialized alloy steel for teeth and critical surfaces, carburized and ground to the strictest tolerances to meet the global standards. All gear sets are 100% quality audited to ensure material quality and machining accuracy.
We used this experience and knowledge to improve the reliability of the customer's components, reducing the total cost of ownership by incorporating these superior wheel motor gearing sets in the customer's GDY85 wheel motor rebuilds.
H-E parts has delivered over 100 components to this customer and continues to partner on our multi-year agreement today.