birrana-enhanced-wheel-group-performance
Birrana™ Enhanced Wheel Group Performance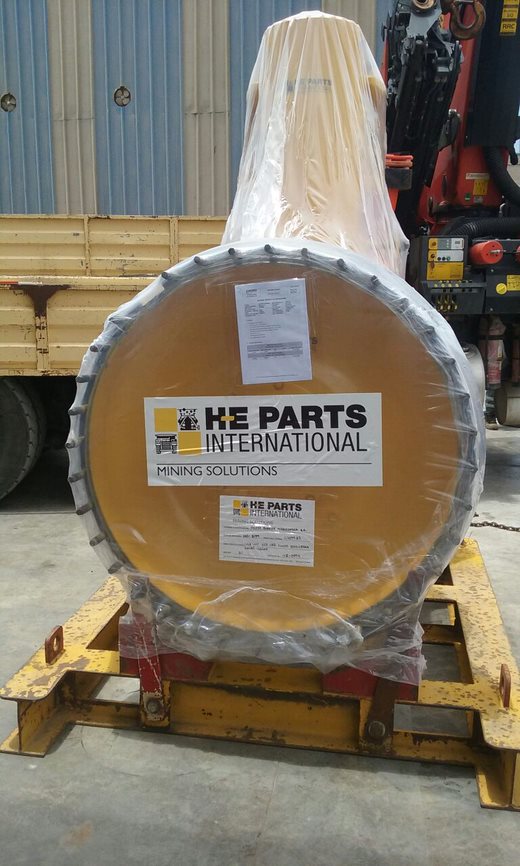 H-E Parts has had a long history of providing Barrick Gold Corporation (Barrick) with global solutions to improve mine maintenance practices. Following a long partnership with Barrick's Pierina mine, Barrick's Lagunas Norte operation engaged H-E Parts to provide a Komatsu 730E-7 wheel group repair program. The Lagunas Norte open pit gold and silver mine is located within the Alto Chicama property in north-central Peru, with the property located on the western flank of the Peruvian Andes at an elevation
of 4000 meters (13,100 feet) above sea level.
H-E Parts put a maintenance regime in place and Lagunas Norte implemented the wheel groups. This involved re-manufacturing the 730E-7 wheel groups incorporating H-E Parts proprietary Birrana™ enhancements, which included:
The Birrana™ control fit wheel bearing system,which includes
flexible spacer, hardened spacer, custom bearing design and
specifications, and preload adjustment.
Birrana™ brake wear gauge allowing easy and fast brake wear
measurement, reduced downtime, and improved safety.
Once in production, Birrana™ enhanced wheel groups accomplished the required planned component replacement (PCR) time-frames while also achieving a lower cost per operating hours. The product quality and service received by Barrick was expected with H-E Parts having previously supplied front and rear wheel groups for their fleet of Caterpillar 785D haul trucks operating at Barrick Pierina mine site.
H-E Parts has now delivered over 40 wheel groups to Lagunas Norte. Unlike other service options available to Lagunas Norte, H-E Parts has the ability to provide major mobile component solutions across a range of equipment brands. This allows our customers a single maintenance solution for their mobile fleets, which is backed by decades of global experience and performance.