birrana-930e-wheel-group-supply
Birrana™ 930E Wheel Group Supply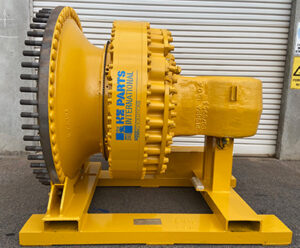 H-E Parts have been working with major iron ore mine operator for many years and in that time have supported their fleets of Komatsu 930E trucks with proprietary Birrana™ enhanced wheel groups.
H-E Parts global locations provides customers in all regions consistent support and supply. Several years ago, customer mine operations in Western Australia, Australia approached H-E Parts with concerns regarding service life of their 930E front wheel groups. H-E Parts was able to offer an innovative solution which has extended life of these components, reducing truck down time and consequential damage to the trucks.
To date, 60+ Birrana™ 930E front wheel groups have been supplied with component life now exceeding 20,000hrs. The 930E wheel groups incorporate H-E Parts proprietary Birrana™ enhancements, such as:
The Birrana™ control fit wheel bearing system, which includes flexible spacer, custom bearing design and specifications, and proprietary preload adjustment.
Birrana™ inner seal retainer system that allows heavier gear oil to be run in the wheel bearing cavity which increases life, decreases contamination to the wheel bearing cavity from the brake cooling circuit and eliminates pressure build up in the wheel bearing cavity. The latter, being a safety improvement, which means that checking the magnetic plug can be done without fear of being exposed to pressurized hot oil.
An enhanced cover has also been designed and implemented in order to fit the Birrana™ B.E.S.T plug sealing system as well, which allows the magnetic plug to be checked without the escape of any oil and minimizes the introduction of contamination.
Birrana™ wheel groups are backed by a dedicated engineering center of excellence based in Adelaide, Australia, that ensures our global re-manufacturing and distribution centers adhere to global best practices and are supported with the latest technical advancements. This allows re-manufacturing of components, even severely distressed, back to zero-hour life and lets our customers benefit from extended component life, increased ease of maintenance and superior performance.