allis-chalmers-60x89-liner-performance-increase
Allis Chalmers 60×89 Liner Performance Increase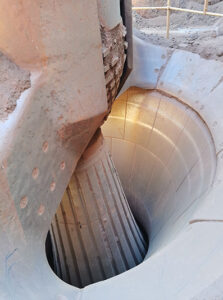 A major iron ore miner in the Pilbara region, Western Australia, engaged H-E Parts to supply crusher liners for their Allis Chalmers 60 x 89 primary gyratory crusher. Due to the sticky nature of the feed material, the mine site was experiencing a significant decrease in throughput and limited liner life. To help combat this situation, H-E Parts developed a specialized high-flow CME™ liner chamber with enhanced design characteristics and an improved material composition. Prior to H-E Parts involvement, the OEM concave liners and mantle set were achieving a total life of ~ 35.3m tons (32.0m tonnes).
H-E Parts liner development program aims to provide customers with tailored solutions at the lowest total cost of operation. To achieve the development goals of site, H-E Parts designed a liner set and incorporated the following chamber shape improvements:
Steeper chamber angle improving material flow and reducing blockages caused by sticky ore
Increased active chamber length providing an improved distribution of crusher work
Stepped concaves to ensure optimum nip angles are maintained throughout the chamber thus preventing excess material slippage
In addition to these chamber shape improvements, the OEM concaves and mantles saw further development in:
Material composition was upgraded to our CME™ MnElite on both the upper concaves and mantle, and our specialized hardened B9 alloy was utilized throughout the lower and middle concave segments.
Mantle design utilizing a corrugated three component set that promoted increase throughput and decrease power draw
H-E Parts verified these improvements throughout the design process by utilizing our proprietary ChamberVision™ and CrusherVision™ predictive modeling software. The concave and mantle set was subsequently supplied and performed as anticipated achieving 87.6m tons (79.5m tonnes) total life, substantially increasing life by 148%. H-E Parts continues to work with site proving wear improvements through modeling and monitoring services.