hitachi-excavator-track-frame-reconditioning
Hitachi Excavator Track Frame Reconditioning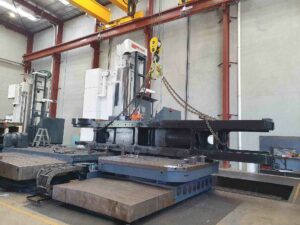 H-E Parts has had the opportunity to partner with our sister company Hitachi Construction Machinery (Australia) Pty Ltd (HCA). Through the strategic synergy of our specialist fit for purpose machine shop, H-E Parts Engineering (HEPE), and our Crushing Solutions manufacturing team, H-E Parts has been able to coordinate a full end to end reconditioning process for the full life repair of Hitachi EX5600 and EX3600 excavator track frames.
Each Hitachi track frame undergoes a material blast process prior to non destructive Testing that is fully managed in house. After testing is complete, each frame is inspected manually and surveyed prior to weld repairs. Our welding process consists of crack repairs as well as pad welding to recondition track attachment faces.
This process allows for precise machining and tolerances to be met allowing the full restoration of each track frame to zero hours and increase structural integrity.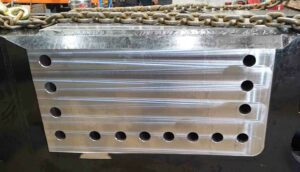 Once welding restoration has been completed, HEPE begin their specialized machining process of the track frames crucial mounting areas. Utilizing HEPE's Toshiba CNC floor borer, capable of 100 tonne capacity and precise tolerances, each track frame undergoes;
Machining and finishing of both top and side mount locations
Machining of all track roller mounting positions
Drilling and tapping over sixty bolt holes per frame.
Each step is complete to HCA specifications to ensure a perfect fit and smooth track movement, reducing uneven and unnecessary wear to these key structural areas.
This strategic alignment between H-E Parts Engineering, H-E Parts Crushing Solutions and our sister company HCA has seen positive results for all parties involved by ensuring high quality servicing, satisfaction, cost savings, and reliability of each track frame repair.