protech-liners-improve-roy-hill-chute-performance
PROTECH™ LINERS IMPROVE ROY HILL CHUTE PERFORMANCE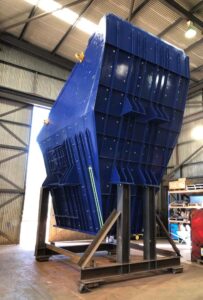 Roy Hill, a prominent iron ore miner in the Pilbara region of Western Australia, approached H-E Parts to assist with the continuous improvement of their rotable transfer chute program. Roy Hill grizzly underflow chutes were scheduled to be replaced every nine months and required ad-hoc maintenance repairs every thirteen weeks.
H-E Parts assisted in achieving the site's desired service life of twelve months with no high-risk maintenance intervention requirements. To meet the goals of this project, H-E Parts worked closely with multiple Roy Hill teams and utilized ultrasonic thickness testing, coupled with a detailed analysis of site data and observation. This combination of data points and our Crushing Solutions teams' expert knowledge allowed for more wear optimization across areas of each transfer chute that experienced heavy amounts of wear. This optimization included increasing wear plate thickness and introducing upgraded material composition across identified areas of heavy wear to extend the life and meet site requirements.
H-E Parts recommended our ProTech™ PT-80T chromium carbide liner package. PT-80T is a complex carbide containing chrome, niobium, vanadium, and tungsten. This hard-wearing, impact-resistant wear plate is commonly recommended across many applications due to its high rate of success and wear properties.
The PT-80T liner package, installed in December of 2020, reached the service interval set by Roy Hill of one year. Across the next twelve months, the ProTech™ liners remained intact and no intervention or repairs were required. Upon removal of the first upgraded chute and after twelve months of reliable service, it remained in serviceable condition with no holes present. H-E Parts still supports Roy Hill throughout their rotable chute program and continuous improvement efforts.