Wheel-Ends
IMPROVED PERFORMANCE THROUGH INNOVATIVE ENGINEERING
Our core business is reconditioning and improving wheel groups for CAT and Komatsu mobile mining equipment. To achieve these improvements, our team utilizes Birrana™ technology, including;
The Birrana™ Control Fit wheel bearing set up, which includes:
Flexible spacer
Hardened spacer
Proprietary:

Bearing design and specification
Bearing fits
Preload adjustment
Whilst proprietary Birrana™ contamination control includes:
Isolation seal.
Contamination guards and contamination kits
Other offerings include:
Gear design and manufacture
At H-E Parts, we are committed to continuous improvement in our Birrana™ wheel group innovations through a dedication to improving performance, reducing cost per hour and on time deliveries to reduce downtime for our customers.
Wheel-End Re-builds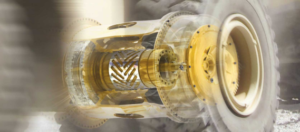 H-E Parts have achieved over 4 million maintenance-free hours on CAT wheel-end rebuilds operating in mines around the world. H-E Parts has specialist facilities globally for the complete rebuild of heavy equipment wheel-ends.
In most cases our proprietary methods allow severely distressed components to be remanufactured, often better than new. Complete control of the rebuilding process, tight standards, high-performance components, and Birrana™ innovations provide increased wheel-end reliability.
Wheel-End Service Exchange
H-E Parts offer the convenience of service exchange wheel-ends. Our special fitting frame doubles as a transport frame making the exchange process faster and safer.
Service exchange offers convenience and consistency of rebuild specifications and quality. We carry a wide range of service exchange stock in our branches.
Convenience
Special frames for fast and safe installation
Component Remanufacture - Wheel Ends
In most cases our proprietary methods allow severely distressed components to be remanufactured, often better than new. Rear and front hub refurbishment – optional thicker wrapper bands and high strength flange. We can even replace the worn internal splines in your wheel hubs.
Rear and front spindle refurbishment – option of WAS or HVOF bearing journals and spline replacement.
Refurbished planet carriers – stronger replacement primary carrier spline.
Refurbishing cuts cost
Upgrades increase component performance
Quality Parts Wheel-Ends
At H-E Parts, we work closely with component manufacturers to specify the optimum components for the application. H-E Parts wheel bearings feature premium clean steel for long fatigue life, crowning that distributes load more evenly and super finishes that reduce the incidence of thin film lubrication and increase life. Our debris resistant bearings feature special textured rollers and surface treatments for improved performance in harsh operating conditions.
Carbon Friction Discs
H-E Parts now offer high-performance carbon friction discs providing longer service life and better heat resistance. The carbon plates give customers the opportunity to better match brake life to wheel-end life.
Increased wheel bearing life
Increased brake life