Chief Financial Officer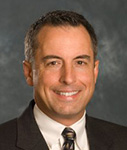 Steven Honnold joined H-E Parts International in June 2014 as Chief Financial Officer, bringing over 30 years of diverse international experience in accounting and finance, strategic planning, contract negotiation, marketing analytics and compensation planning.
In his role as CFO, Mr. Honnold is responsible for identifying and driving paths forward to increase the value of the company for all stakeholders, including shareholders, lending partners, suppliers and employees. Mr. Honnold works closely with all H-E Parts' subsidiaries to identify and implement steps to maximize cash flow though improved planning, analysis, the use of working capital and further investments in the business.
Prior to joining H-E Parts, Mr. Honnold served as CFO for Metcam in Alpharetta, Georgia. Earlier in his career, he filled several Vice President roles in finance, contract pricing of national accounts, compensation and strategic planning. For the first 17 years of his career, Mr. Honnold worked with the Eastman Kodak Company in Rochester, New York, in various finance roles and as a Chemist.
Mr. Honnold earned his Bachelor's of Science degree in Chemistry from the State University of New York at Geneseo and he completed his MBA from the University of Rochester Simon School of Business in Rochester, New York.